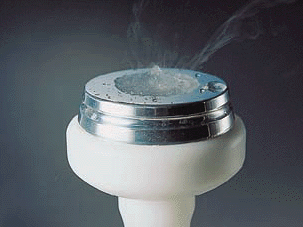 Recently, ultrasonic beauty device and ultrasonic massagers are becoming more popular as skin care device, not only in Korea, but also in many advanced countries. So it is noteworthy that a small Korean company has developed and started manufacturing high quality ultrasonic beauty device and ultrasonic massagers, the quality of which surpasses any other product in the world. Their products are being welcomed enthusiastically by women and people from the fields of beauty and medical care.

Sonictech Co., Ltd., located in Kasan-Dong, Kumchun-Ku, Seoul, is the manufacturer. Mr. Kungsuk Cho, the C.E.O. of the company, succeeded to develop an ultrasonic distributor in October, 1999 as a result of his continuous efforts in research and development. Following to the distributor, he completed the development of the oscillation circuit and parts for the ultrasonic massager in November, 1999. Started in January last year, his company has been manufacturing and distributing ultrasonic beauty devices called "SKIN JOY."

Now, the company is growing at a rapid pace. What is an Ultrasonic Beauty Device? In order to understand the nature of the ultrasonic beauty device, it is necessary to learn about the basic materials of the device. The basic material of the device is called a piezo-electrical ceramic device. This piezo-electrical ceramic device generates electricity (electrical pressure) when it is applied with pressure (physical power). On the other hand, it converts to mechanical power (automatic) when it is applied with electricity (electrical pressure).

The ultrasonic beauty device has been developed utilizing the latter principle. It generates vibrations as many as a million times per second, through which the ultrasonic penetrates into deep inside the skin and takes out any suppurative substances such as acne or secretion from the skin. Therefore, using our ultrasonic beauty device before washing one's face makes the skin cleaner, suppler, and more responsive to any skin care products and makeup. Moreover, it is very effective for treating acne in adolescents. While other existing beauty devices work based on heat effects, ultrasonic gives physical power to places deep inside of the skin and raises the temperature inside of the skin.

C.E.O. Cho, the developer of the ultrasonic beauty device and the ultrasonic massager, is known for his spirit of incessant research and experiment, and is often compared to Edison. Also, according to his friends and colleagues, he has a very persistent personality and the efforts he had put into developing the above products were extraordinary. In an effort to develop the piezo-electric ceramic device, Mr. Cho visited the Pilot Plant Research Center of Hanyang University numerous times, and even stayed in a ceramics plant for eight months doing research. Even nowadays, he stays up working late in the Korea Institute of Ceramic Engineering and Technology (KICET) a couple of days a week.

"Who sweats more makes the difference!" The question is creativity. However, Mr. Cho also had a hard time in management. Trained as an engineer, he did not have much knowledge regarding management and distribution. Also, fund raising for the product development was not an easy part for him. Yet, he has never lost his confidence in the products he had developed and manufactured. Finally, in May of last year, the profits of his company reached a break-even point. Since then, his company has been in the black.

Sonictech Co., Ltd. has a very good prospect. Mr. Cho said that he has completed the development of an ultrasonic prostate treatment machine, and is planning to finish developing a periodontal disease treatment machine, a fungus treatment machine, and a contact lens cleaner by the end of this year. He is also working on about ten other products. He pointed out that creativity is the key in succeeding his business, and he is determined to make his company world-renowned in the field of ultrasonic devices, based on excellent technology.